Company
Established in 1955, BANDEX can look back on more than 60 years of experience. Historically, the company was specialised in the production of tapes used in zip fasteners, but 2 decades later it changed to the production of curtain tapes. Over the years, BANDEX has continuously extended its product range and today it is one of the leading specialist in the production of high-quality curtain heading tapes. The product portfolio comprises more than 500 standardized products, but in addition, we also offer individual solutions for our customers. Understanding the wishes and requirements of our customers, search for creative and innovative solutions and the speediness of their implementation - these are the most distinguishing features of our company. BANDEX has a long international reach and presently its products are distributed world-wide in more than 55 countries.
Beside the focus on curtain tapes in the market of home textiles, BANDEX consistently pursues the creation of a second key area of activity in narrow weaving, particularly "technical tapes" that are already used in different industries. In its endeavours, BANDEX mainly focuses on custom-made solutions for the individual customers. We aim at understanding the specific tasks of the customers and to contribute to their success through a creative and efficient solution proposed by our company. To this purpose we are able to process almost any material. Due to our competency in three-level weaving we are able to satisfy even the most complex requirements.
BANDEX is a medium-sized company with a fully integrated production. This is why we may guarantee a fast response to specific customer requests. Many of the products are available ex stock immediately.
In 2010, BANDEX was taken over by the three present partners Andreas Geiger, Martin Grübener and Johann Schallert. As an SME located in the very heart of Europe and with products "Made in Austria", we are fully aware that we must distinguish by our intensive efforts towards highest quality, comprehensive service and optimum speediness as well as by an efficient production at optimum costs. And that is exactly what we stand for!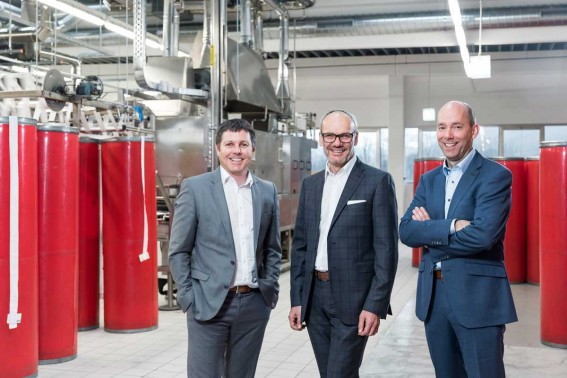 f.l. to r. Andreas Geiger, Johann Schallert, Martin Grübener
In 2012, we acquired new plant premises in Koblach in the Western region of Austria. On an area of approx. 9,000 sqm the premises have a floor space of presently approx. 4,500 sqm. We have established the headquarter of the company, our stock, the packaging and shipping department, as well as a top modern production in these premises located at the heart of important European transport links and the center of the border triangle where Austria, Switzerland and Liechtenstein meet.